Hi all, just a quick heads up...
As you know, Castrol are famous for making top of the range, high quality products. They are also a company that like to keep their products looking fresh and up to date. To do this, they regularly change their bottle shape design and the look of their labels.
An example of this is their recent changes to the
Castrol Power 1 Racing 4T 10w-40
- this fully synthetic 4 stroke motorbike oil still has the exact same high quality formula that remains unchanged, they have simply updated their label and the shape of the bottle. They take aesthetics very seriously!
At
Opie Oils
, we also like to keep things up to date and looking fresh, so we're offering a fantastic price for our remaining stock of "old label"
Castrol Power 1 Racing 4T 10w-40
, which is
even better
when you apply your 10% forum discount (found in signature):
JUST £16.20 FOR 4 LITRES!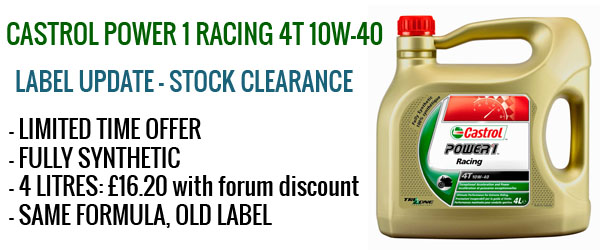 You can view this product
HERE
There is only limited stock remaining of this great product at this price - once it's gone, it's gone. At this point, only the "new label" Castrol Power 1 Racing 4T 10w-40 will be available for purchase, at the current price of £34.16 with forum discount, so get those orders in quick to take advantage of this price.
If you need a bit of info on this product, have a look below:
Power 1 Racing 4T 10W-40 is fully synthetic 4-stroke motorcycle engine oil for modern high performance sports bikes that increases engine acceleration and power right up to max rpm. Its Race Derived Technology based on Castrol's racing history and testing experience ensures maximum engine performance, without sacrificing engine durability, thus giving a significant benefit over other types of engine oils.
For our full range of bike products, have a look
HERE
and keep an eye on our motorbike clearance range
HERE
for great deals and special offers.
That's it from us today, but as always if you require any oil advice then feel free to ask. You can call us on
01209 202944
Monday - Friday 8.30am - 5.30pm, send us an email to
sales@opieoils.co.uk
or just ask us here and we will be happy to help.
Until next time!
-Oilman