Honda C90 Club New Year run January 2010.
Just found these in the archives & thought you may be interested. Don't worry too much about the last photo, I think that Russ (Cub Stigg) was suffering the after effects of over indulgence during the Christmas break.
They were taken at Rivington (Top) Barn, t'was a bit icy but it all adds to the fun.
url=
https://postimg.cc/image/u2tp8j9x1/
]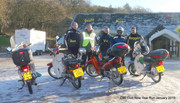 [/url]