So yesterday I decided to treat myself to a day out visiting a canal festival. It wasn't too far, Little Venice near Maida Vale in London, 5 miles away. I've been there before but not for the last couple of years but I knew the route. Or so I thought. The ever changing scenery of London meant that landmarks I once knew were gone so I missed my turn-off point for the Edgware Rd and got stuck doing a couple of miles on the Westway flyover. I had no choice but to continue until I could pull off and return the way I'd come. I did find Edgware Rd in the end and the Little Venice canal basin, parked Ruby where only little bikes can park, (between parked cars) crossed the road to a bench overlooking the array of boats with their bunting and highly polished brass tillers and sat listening to the live band playing 1920's music. In front of me, Jason, a public boat tripper narrowboat that vies it's trade in the area, would moor, take on passengers and take them for a short tour of the local area. On the other side of the basin was the main mooring area for the visiting boats and I decided to up sticks and move to that side for a closer look. The vending stalls were over there too so I could have a look to see what they were selling.

Yet again I was able to squeeze Ruby in between some parked cars and find a bench to sit on.
My memories are gone. It used to be that I would recognise at least a few of the boats there and there was always a couple of old ex-working boats with their traditional back cabins, (lace edge plates, Meacham teapots, polished brass, net curtains and the castles and roses paintings that they were known for.) None of them were there. The boats represented were 'new' build, as in built specifically to be cruised and lived on. The history was gone, a new generation has taken over. Even the stuff the stalls were selling was modern. Foods such as "traditional sausage roll with black pudding, chocolate and wild garlic"? Yuk. Not a lot of boaty stuff there at all.
The old and the new.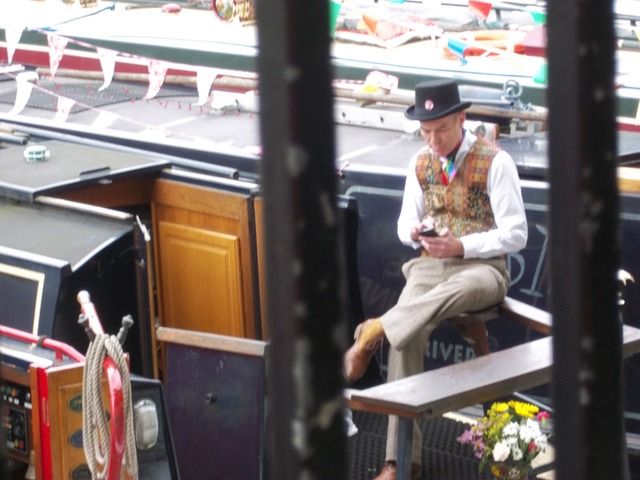 Time was getting on so back to Ruby for the ride home to feed Hub. I know the way now, right? Wrong. The one road I was to go down was closed for roadworks and after following the detour I was totally lost. To be honest it wasn't entirely my fault. At the end of one road, a T junction, there were two signs indicating the direction of the detour, one to the left, one to the right. I obviously took the wrong one. As I'd forgotten my A-Z, all I could do was follow my instinct and hope. Now, is Wembley nearer to home or Brent Cross, Willesden or Neasden. Paddington? I drove around hoping for a road sign to somewhere I knew and each time I found one, further along the road it would disappear. Finally I picked up on one, Central London, and followed that. Guess where I was? On the Westway flyover again heading toward Edgware Rd (the homeward way). At that moment Hub phoned so I pulled over to talk to him. It had been 40 minutes since I'd first decided to go home. I really knew where I was now, I'd just go up there and head for Marylebone Rd. So How did I end up on the Nth Circular a couple of miles north of Marylebone Rd? Who knows. But this time I really, really did know where I was and for the rest of the ride it was a straight run through Archway and home.
27 miles in total, should have been about 10.